Overview

The CH-8 is a unique eight channel Class-A microphone pre-amp with Tube hart and analog soul featuring outstanding sonic capabilities like no other.

For the input stage we designed a custom Mu-metal input transformers for maximum signal linearity along with sonic benefits of the transformer's character. We specially designed a Tube CLASS A input stage for its second harmonic performance in order to match the needs of digital recording to the warm sound of analog equipment.
In order to take this uncompromised structure to the highest level of sonic excellence, the signal path stages are made pure CLASS A with tubes and transformers for each channel.

Like all of our products, the CH-8 Mic Pre is meticulously hand crafted in our workshop. All signal stages are constructed from the highest audio grade materials like metal film resistors and audio grade capacitors etc.
Working with the CH-8 provides innovative ways of manipulating audio signals like never experienced before.

Pre-Amp

• Phantom power (+48 V) switches.
• Phase reverse & -18db pad switches.
• 200 ohm microphone input step-up transformers in Mumetal cases.
• 12AX7 tubes CLASS A design input stage.
• Fully passive 12db/oct 5-state high-pass filters + bypass.
• Filter frequencies: 65Hz, 110Hz, 180Hz, 250Hz & 450Hz.
• Solid state transformerless design balanced output stage.
• Input Impedance: 200 Ohms Balanced, (PIN 2 HOT).
• Output Impedance: >50 Ohms Balanced, (PIN 2 HOT).
• MAX Gain: 62 db (typical).
• MAX Input level: +2dbm (for THD of < 2%).
• MAX Output level: +31dbm/600 ohm (on balanced output).
• Noise Floor: -91db @ 22-22khz (typical).
• Frequency Response: 20-20kHz +/- 0.3db, 15-40kHz +/- 2db.
• Gain: 62db continuously variable from +22 to +62db.
• Optional add-on: 12 Step Gain Selector »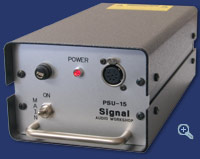 External regulated Power Supply

• Output voltages: +300 vdc,+50.4 vdc,+48 vdc,+/-24 vdc.
• Operating Voltage: 230Vac @ 50Hz / 115Vac @ 60Hz.
• Dimensions CH2-M: H= 3 units, W= 19",D=5".
• Dimensions Psu-15: W=5.5", H=4", D=11".






Documentation