Overview
The CH2-M is a unique combination of our state of the art tube Microphone pre-amp and a master control room monitoring controller. This unit states a revolutionary approach to a "non-console working environment", offering a high-end, cost-effective solution for most modern computer-based personal project studios.
The CH2-M combines our 2 channel tube mic pre (CH-2) with its outstanding Sonic capabilities, two DI inputs, and a passive MCRC (Master Control Room Console).

This unit covers all analog I/O's of a small DAW (Digital Audio Workstation): Mic/line/instrument and monitor's outlet, all offer extreme audio performance in a unique solution. The CH2-M features a special, passive control-room source select & rotary stereo fader for Control Room level, connected to a dual speaker select SW. This allows plugging the pre-amp's rich, fat, 'tuby' sound to a computer while transparently monitoring it.
The passive monitoring route of the MCRC enables pure listening to your DAW without the use of any low-grade "traditional" analog console's channels & summing losses, and without a hard wired D/A's output playing its self-noise through the monitor system.
For the Microphone input stage we designed a custom Mu-metal input
transformers for maximum signal linearity along with the sonic benefits of the transformer's character. We specially designed a Tube CLASS A input stage for its second harmonic performance in order to match the needs of digital recording to the warm sound of analog equipment.




Pre amp



• Input Impedance: 200 Ohms Balanced, (PIN 2 HOT).
• Output Impedance: >50 Ohms Balanced, (PIN 2 HOT).
• MAX Gain: 62 db (typical).
• MAX Input level: +2dbm (for THD < 2%).
• MAX Output level: +31dbm/600 ohm (on balanced output).
• Noise Floor: -70db @ 22-22 khz (typical).
• Frequency Response: 20-20kHz +/- 0.3db, 15-40kHz +/- 2db.
• Gain: 62db continuously variable from +22 to +62db.
• Operating Voltage: 230Vac @ 50Hz / 115Vac @ 60Hz.
• Phantom power (+48 V) switches.
• Phase reverse & -18db pad switches.
• Custom 200 ohm microphone input step-up transformers in Mumetal cases.
• 12AX7 tubes CLASS A design 62db gain amplifier.
• Fully passive 12db/oct 5-state high-pass filters + bypass.
• Filter frequencies: 65Hz, 110Hz, 180Hz, 250Hz & 450Hz.
• Solid state transformerless design balanced output stage.
• Optional add-on: 12 Step Gain Selector »




Control room section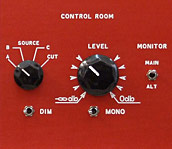 • 3 stereo source input select.
• Mono sum switch for monitoring L+R.
• Dim switch.
• Control room level knob w/large & accurate scaling.
• Speaker select for 2 pairs of monitors.
• Fully passive I/O ¼" connectors (back panel).
• Specially designed for monitoring & maximum signal transparency.
• All internal routing functions are passive & terminated.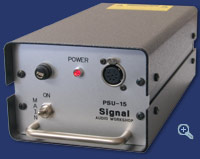 External regulated Power Supply • Output voltages: +300 vdc,+50.4 vdc,+48 vdc,+/-24 vdc.
• Operating Voltage: 230Vac @ 50Hz / 115Vac @ 60Hz.
• Mains Fuse Type: 2 Amp slo-blo/120 Volt, 1 Amp/ 230 Volt.
• Dimensions CH2-M: H= 3 units, W= 19",D=5".
• Dimensions Psu-15: W=5.5", H=4", D=11".





Optional





Documentation